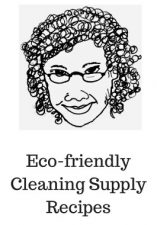 I've had the privilege of appearing on local television over the years, to share some ideas for making some basic cleaners on the cheap.
Here are the ingredients you're going to need:
Baking Soda
Borax
Soap
Super Washing Soda (NOT Baking Soda!)
Distilled White Vinegar
Tea Tree essential oil
All of these ingredients can be found locally. One purchase should yield about 1 year's worth of cleaning supplies.
As you read through the recipes, you'll notice how much can be done with so few ingredients.